Hotel Mein Strandhaus - Timmendorfer Strand / Niendorf
The beachside hotel that's overflowing with enjoyment, relaxation and generous warmth
Welcome to Mein Strandhaus. Our hotel is situated right by the beach, in the unspoilt village of Niendorf, the picturesque and maritime part of Timmendorfer Strand.
What you'll get here is a true break by the Baltic: a relaxed holiday in the company of warm, friendly hosts, a view of the sea that stretches as far as the eye can see, and sandy beaches and wicker beach chairs just moments away. With nearly 6 km of beach and the loveliest small harbour anywhere on the Baltic Coast just outside the front door, an amazing location close to sophisticated Timmendorf and the Hanseatic town of Lübeck, a holiday at the Mein Strandhaus hotel guarantees you an exciting and relaxing Baltic break, whatever the time of year.
We've been welcoming guests to our hotel with our heart and soul for five generations now. And now, after a century as the Seehotel und Restaurant Friedrichsruh, we have reopened, completely transformed, as the new Mein Strandhaus. It's not just the name that's new, however: so are our rooms, pool and sauna. All of us in the Muus and Promberger family look forward to your arrival with the warmth and dedication all our guests have come to expect and enjoy.
Austrian charm and a warmth that could only be from northern Germany come together in our restaurant – in the shape of our two chefs. As a result, our menu features not only inspired northern German delicacies, but also a range of Austrian specialities. All of which are freshly prepared using regional ingredients, of course.
Discover your home from home and Nordic hospitality
Mein Standhaus Friedrichsruh
At the Hotel Mein Strandhaus, you can enjoy a true feel-good ambience, reflected in the gentle colours of the beach and sea just outside. Our light, modern rooms allow you to relax and unwind while experiencing an unforgettably lovely holiday.
A choice of delicacies created using ingredients from land and sea await at our restaurant Mein Strandgenuss. You can enjoy the culinary delights of our Nordic cuisine, with its Austrian inspirations, on our huge terrace looking out to the Baltic Sea.
The Mein Strandbad pool and sauna area is a place where you can simply forget real time, and dream awhile. Enjoy the sauna, or a relaxing massage, after taking a long stroll on the beach. Swim a few lengths in our pool, and lie back and relax on one of the deckchairs.
Mein Strandhaus - its unique location overlooking the beach and the Baltic Sea is simply unrivalled. You'll find the beach just moments away, so you can run barefoot in the sand, the little ones can spend untroubled hours searching for mussels, and you can all enjoy some time out.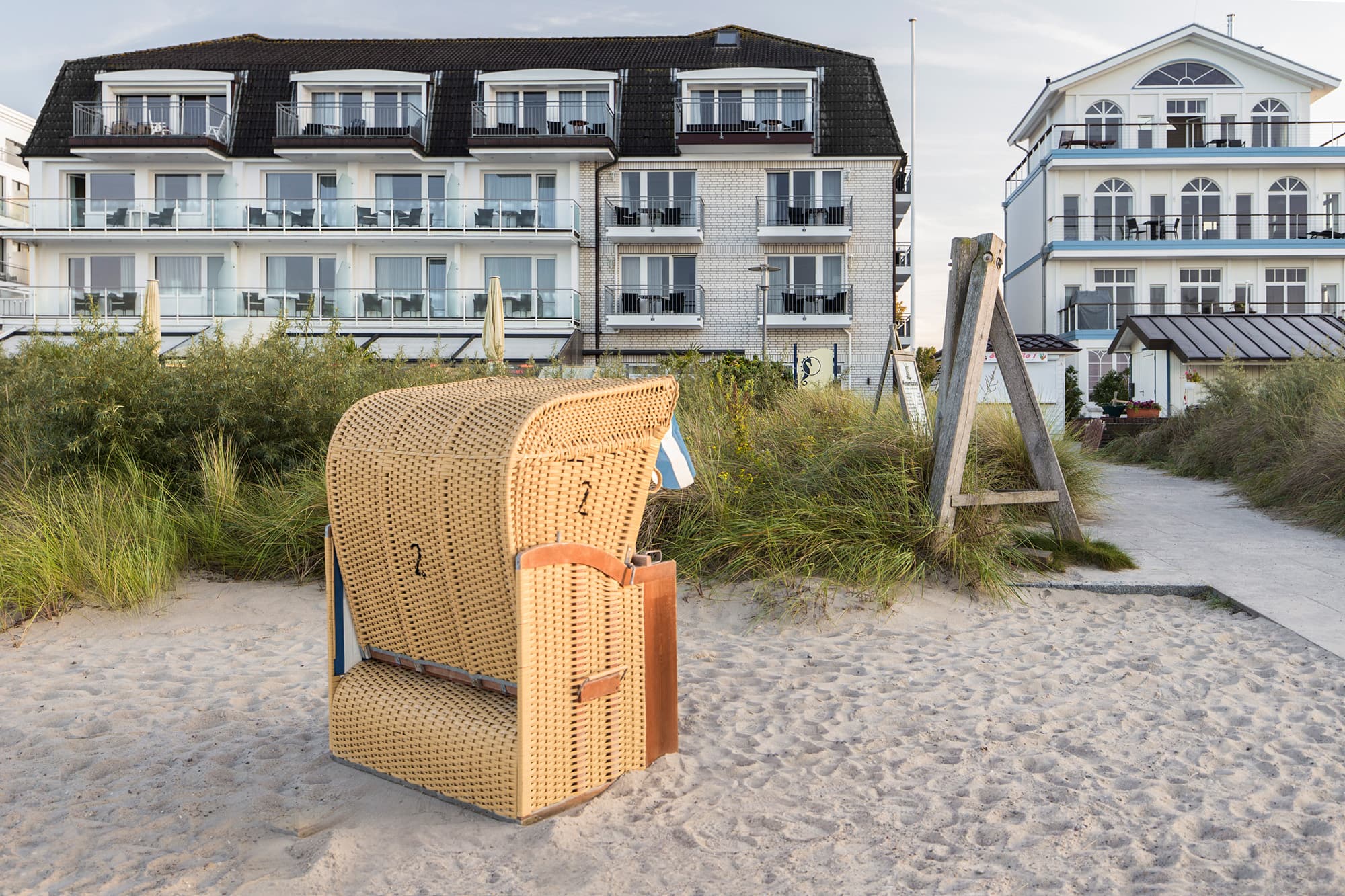 Experience a maritime feel-good atmosphere
Meine Strandzeit
Stylish, clear and inviting – these three words sum up our rooms.
You can look forward to spacious rooms, the lie-in breakfast, and swimming in the sea or the hotel's own pool. Whether you're using it for entertainment or business, you can enjoy free W-LAN, a flatscreen TV, and of course a telephone, in your room.
All of our 35 rooms and the suite are equipped with a comfortable seating area, safe, desk and full-length mirror. Plus there is free parking at the hotel itself.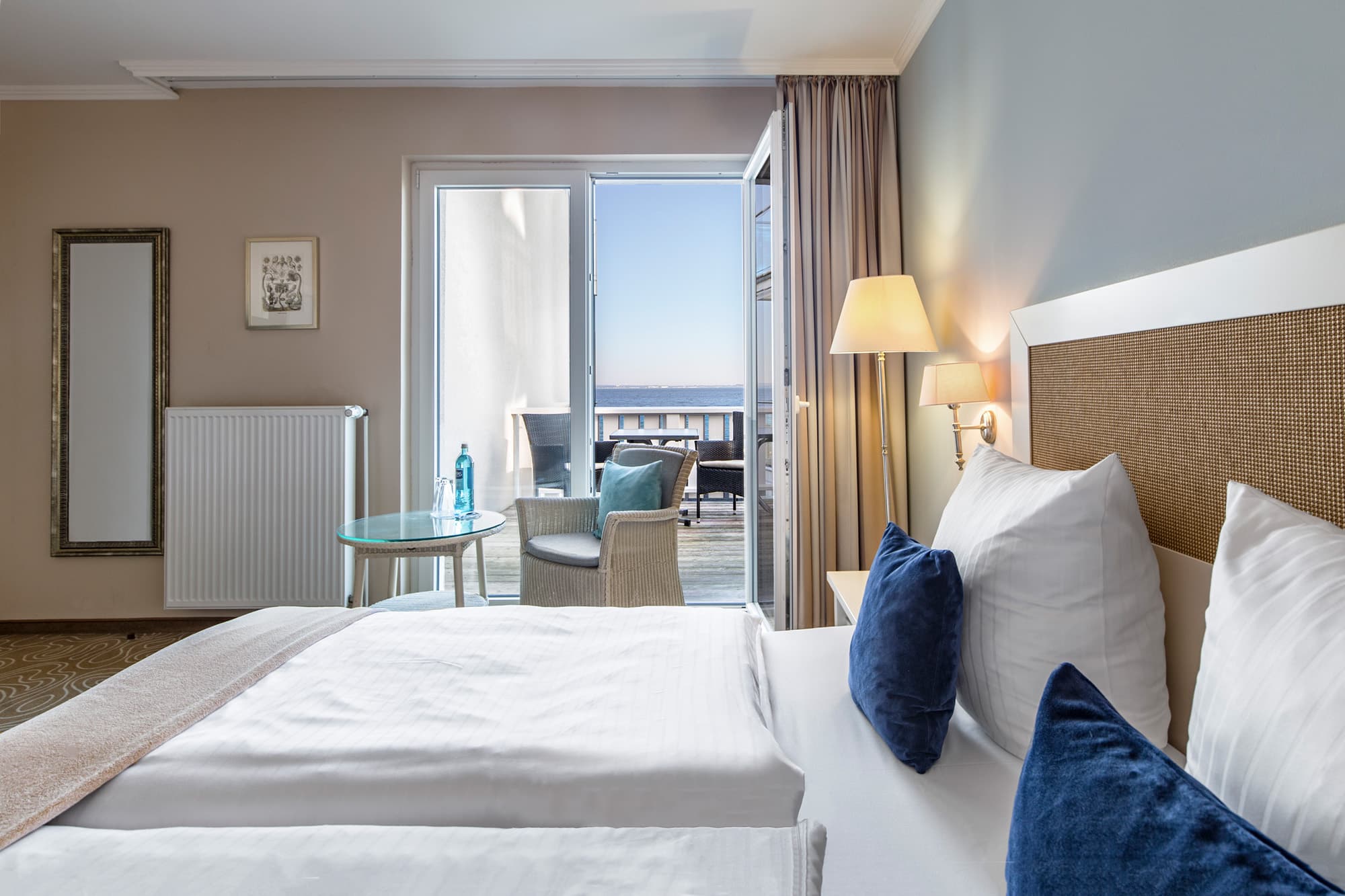 Join us to enjoy the culinary delights of land and sea ...
Mein Strandgenuss
Take it easy, enjoy some of the finer things in life and recharge your batteries. Go to our restaurant, get a table out on the terrace, take in the sea view, and enjoy the hotel's light, creative and regional cuisine with its Alpine inspirations, made using fresh products from the surrounding area.
This is somewhere you can indulge yourself to your heart's desire. Our hotel terrace – just by the promenade, and with a breathtaking view out over the Baltic Sea – offers the best selection of speciality coffees and teas, and delicious, home-baked cakes and tarts.
Give in to the temptation!
Want to use Mein Strandhaus cuisine to pamper friends at a party you're throwing at home, or some business partners, maybe, at a corporate event? Our catering gives you hand-picked culinary delights – whether you're entertaining indoors or in the open air, want it informal or classier, we can do it all.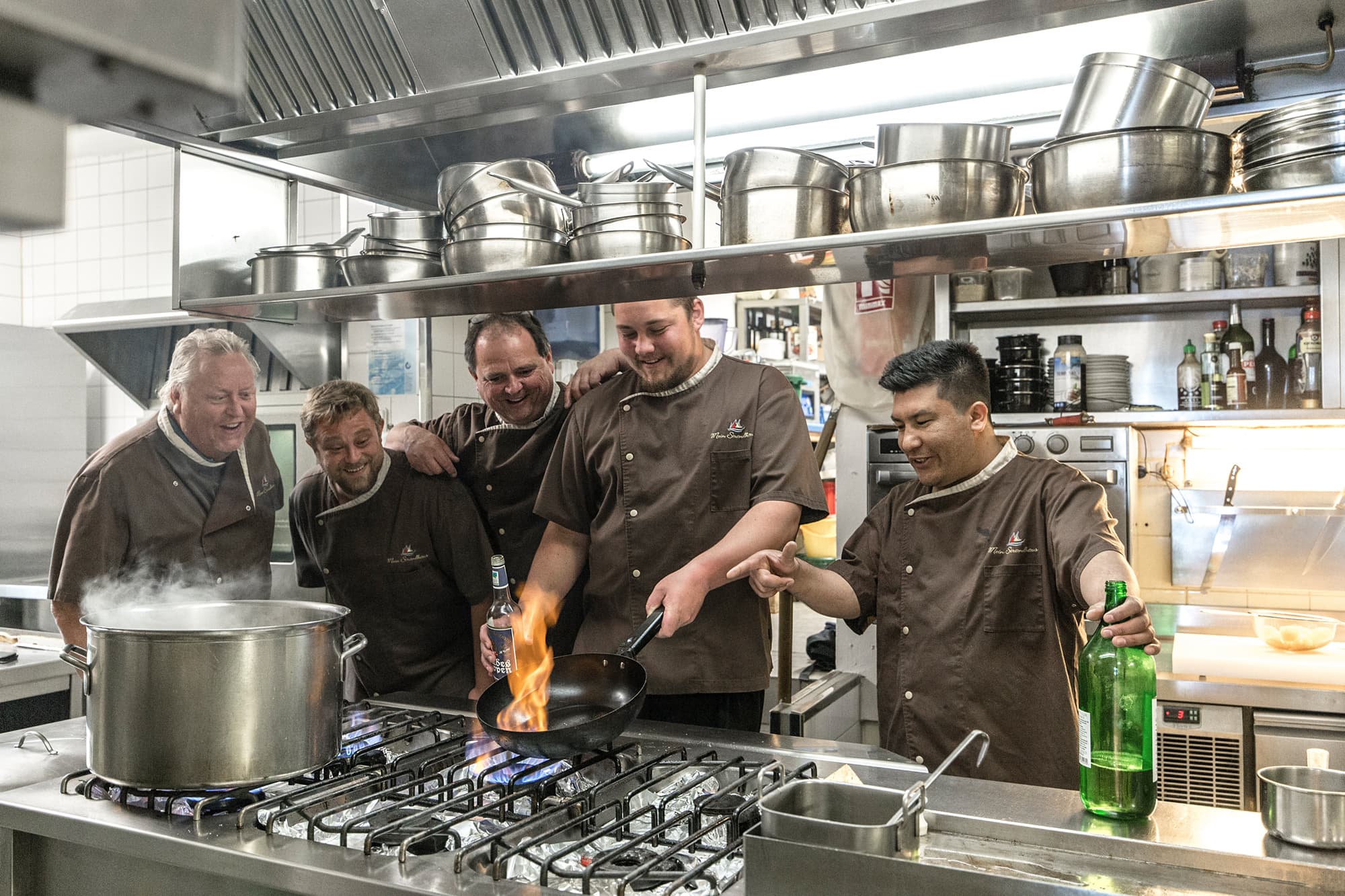 From action to relaxation – explore the Bay of Lübeck
Meine Strandfreizeit
Enjoy your leisure time here with in the village of Niendorf, beside the Baltic Sea. The Bay of Lübeck is a true holiday El Dorado, offering a vast range of leisure opportunities, with something for every possible taste.
As well as a host of fascinating destinations in the surrounding area, we offer an extensive range of sports and activities – both on land and on the water – designed to get you moving in our exhilarating natural landscape.
You might want to take a stroll along the beach and explore the picturesque town of Niendorf, with its stunning harbour and maritime flair. Whether you're on foot or on two wheels, the harbour – with its colourful cutters, ancient smokehouses and dyed-in-the-wool fishermen – is an unspoilt treasure waiting to be discovered.
For more action and less tranquility, meanwhile, you might fancy visiting the HansaPark with the whole family, Sea Life Center in Timmendorfer Strand or maybe Karl's Erlebnis Hof in Warnsdorf. One thing's for sure: you certainly won't be bored!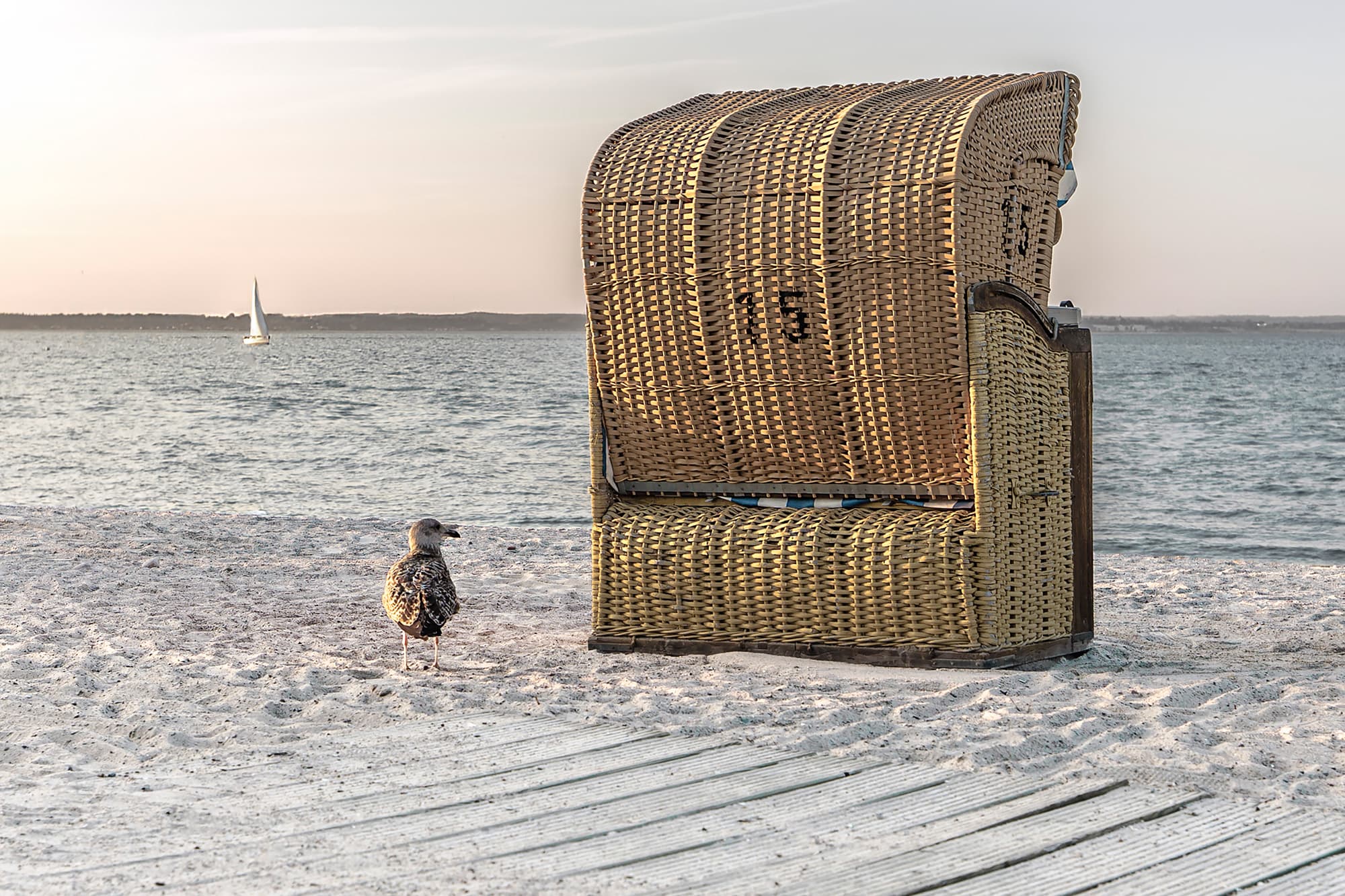 Your hosts:
the Muuss & Promberger family
Experience true Nordic hospitality: for 100 years now, we've been hosts with all our heart and soul, with our entire team standing behind a family firm with warmth and passion.